Turmeric Gummies
🐻The active ingredients found within turmeric are known to reduce inflammation and exert antioxidant benefits.
Product benefits:
Helps fight inflammation

High in antioxidants

Supports joint health

Promotes healthy skin
Regular price

Sale price

$16.99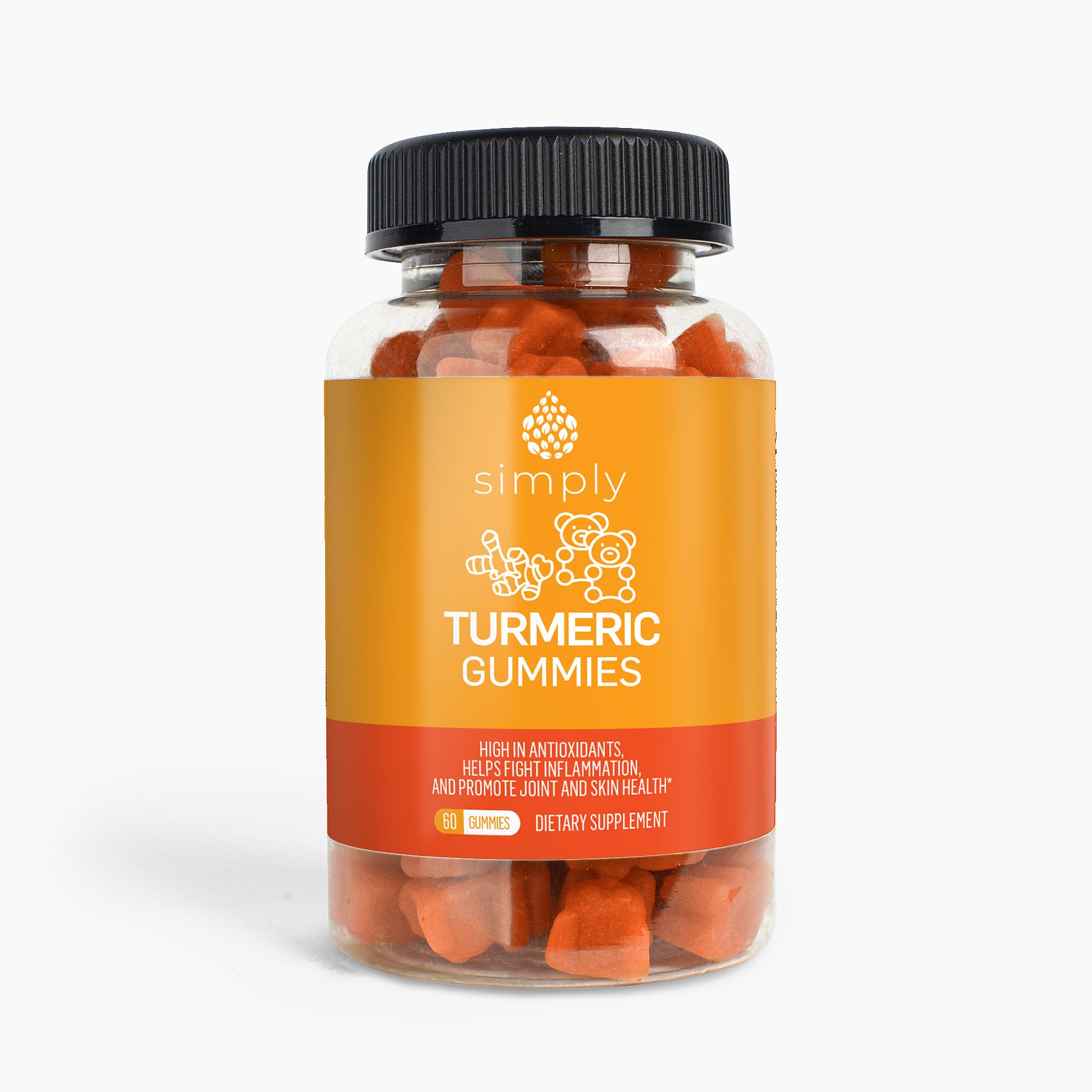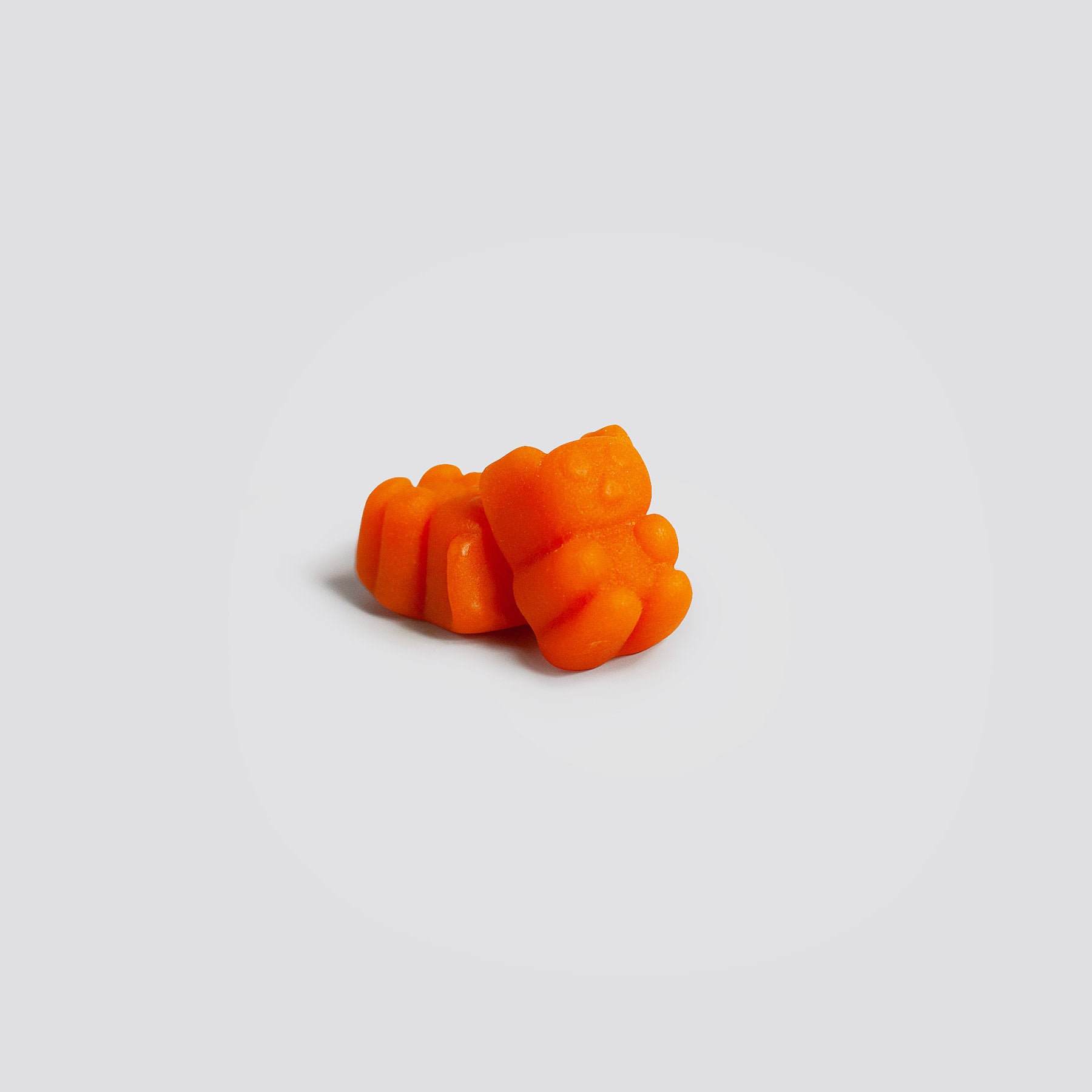 FAQs
Q: What are turmeric gummies?

Turmeric gummy bears are created with turmeric, which contains curcuminoids – and, most importantly, curcumin. Curcumin and the other curcuminoids present in this yellow-orange spice are the nutrients that make it so great for your health.
Q: What are the benefits of turmeric gummies?

Turmeric gummies have natural, powerful anti-inflammatory effects and strong antioxidant content, curcumin can help fight chronic inflammation within the body. It can also fight free radicals and the oxidative damage they may cause
Q: How are turmeric gummies made?

Turmeric gummy bears are typically made by combining turmeric powder with a liquid, such as water or coconut milk, and a sweetener, such as honey or maple syrup. This mixture is then heated and stirred until it forms a paste. Gelatin or agar agar is then added to the paste to give it a gummy texture. The mixture is then poured into molds and left to cool and set. Sometimes additional ingredients such as black pepper extract or ginger are added to enhance the absorption and health benefits of the turmeric. The final product is a chewy gummy supplement that can be consumed as a daily dietary supplement. Some commercial turmeric gummies may also include additional vitamins and minerals.
Q: ARE there any side effects with turmeric gummies?

Many people consume turmeric gummies to treat chronic health conditions such as arthritis. These biologically active compounds may also support your digestive health and improve your brain power. In short, turmeric gummies offer many health benefits without causing any health risks
Q: Can turmeric gummies interact with any medication?

If you take any medicines regularly, talk to your doctor before you start using turmeric supplements. Turmeric gummies could interact with medicines like aspirin, NSAID painkillers, statins, diabetes drugs, blood pressure medicines, and blood thinners.
Q: How much turmeric should be in a gummy?

The amount of turmeric in a gummy can vary depending on the specific brand or product. However, most turmeric gummies contain approximately 20-30 milligrams of turmeric per gummy. It's important to note that not all turmeric gummies are the same concentration/quality and the recommended daily dosage of turmeric varies based on factors such as age, weight, and overall health.
q: Can turmeric gummies help with joint pain?

Turmeric gummies are known for their anti-inflammatory properties, which can help to reduce pain and inflammation in the joints. This can be particularly beneficial for those with conditions such as osteoarthritis, rheumatoid arthritis, and gout.
q: How long does it take for turmeric gummies to work?

The available research suggests that turmeric's antioxidant effects can be felt between 4-8 weeks.
q: Can turmeric gummies help in reducing stress and anxiety?

Turmeric gummy bears can boost serotonin levels which can help relieve anxiety and depression.
q: Are turmeric gummies safe for pregnant women?

Pregnant women should not use turmeric gummy bears. Talk to a doctor before using turmeric supplements regularly if you have any medical conditions, including gallbladder or kidney disease, bleeding disorders, diabetes, or immunity problems
q: Can turmeric gummies help in reducing cholesterol levels?

Turmeric gummy bear's active ingredient curcumin has various health benefits due to its antioxidant and anti-inflammatory properties. Some studies suggest that turmeric may help reduce cholesterol.
q: Can turmeric gummies be consumed with food?

it is best to take these turmeric supplements 30 minutes before a meal on an empty stomach.
q: Can turmeric gummies help in improving brain function?

Turmeric Gummies contain antioxidants that protect cells from damage caused by free radicals, which can help with overall health and weight loss. Turmeric Gummies improve brain function and cognitive performance, which can help with weight loss by increasing motivation and focus.