SHRED with MCT Fat Burner
🔥 Experience the true effects of a fat-burning supplement with Shred! Shred with MCT harnesses the power of extensively researched, stimulant-free ingredients to help your body burn fat effectively, while also decreasing your appetite and boosting your metabolism. Making any fat loss phase easier with added benefits of focus and energy, but without the filler ingredients and crash-causing stimulants.
MCT oil for lower body fat*
No stimulants, no crash
Boost metabolism
Decrease hunger naturally*
Compatible with keto diets
Regular price

Sale price

$28.99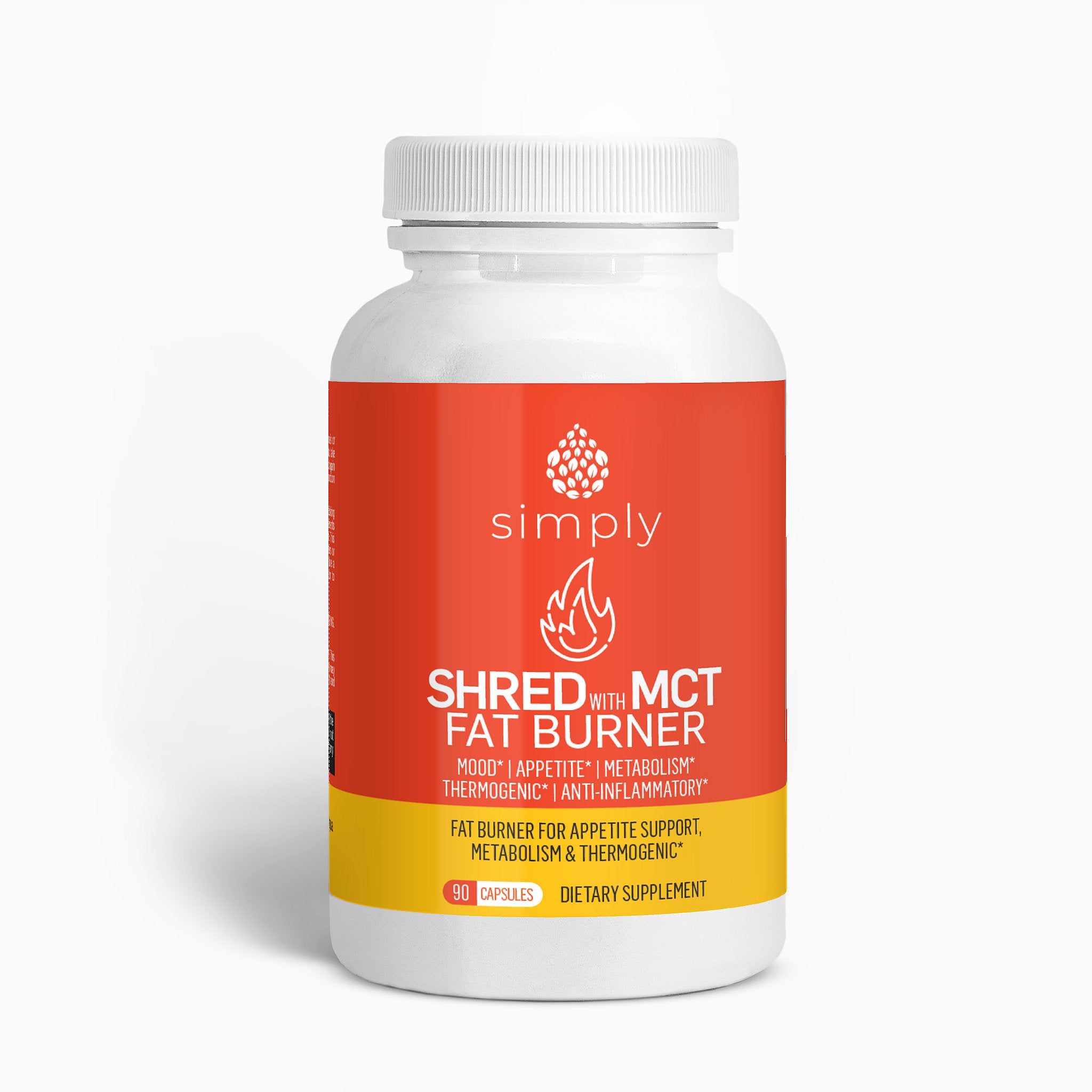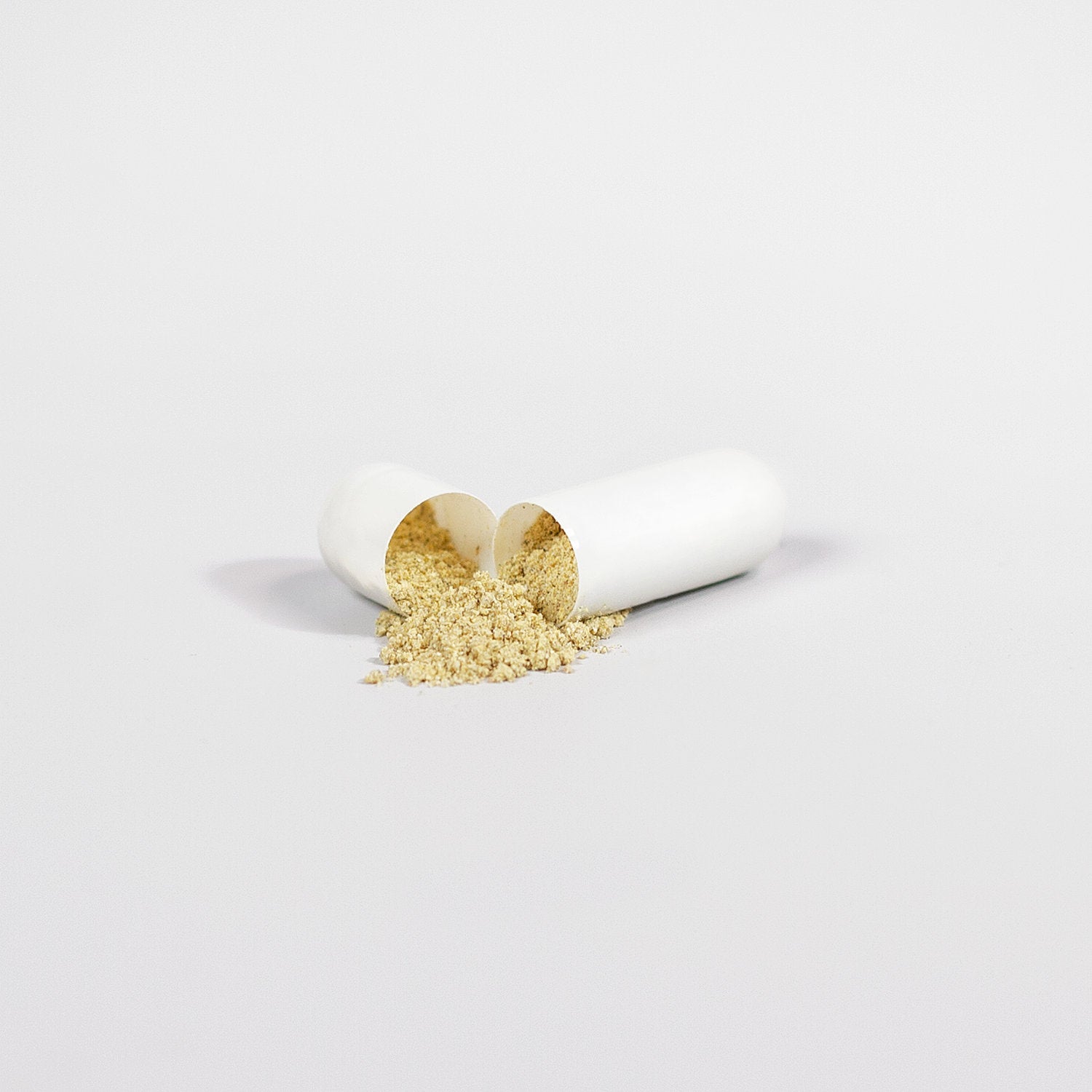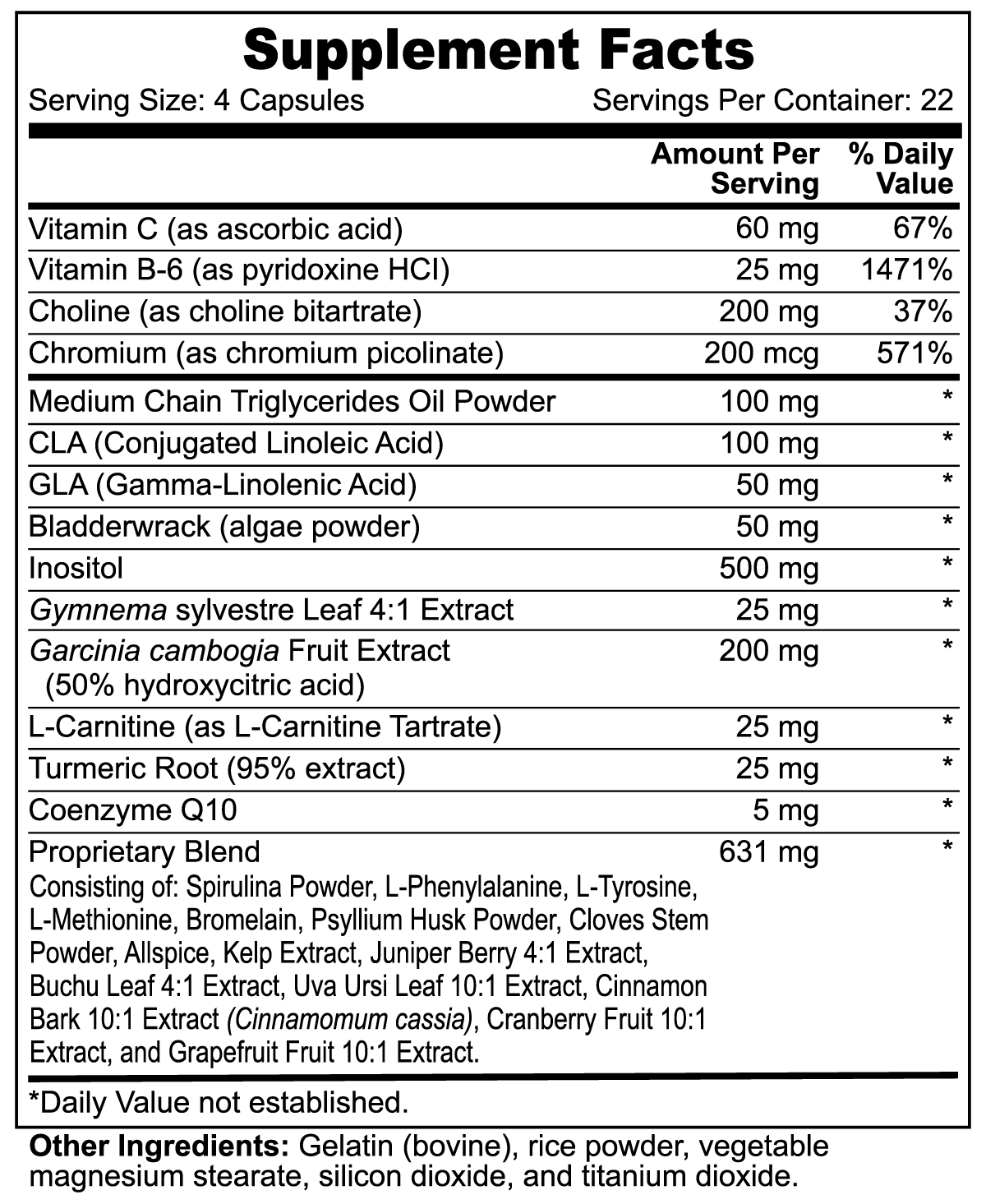 A NEW BREED OF NATURAL THERMOGENIC CREATED TO SHRED FAT LIKE NEVER BEFORE*
Helps Support Increased Thermogenesis*

Helps Promote Conversion of Fat Into Energy*

Promotes Elevated Calorie Burning & Decreased Appetite*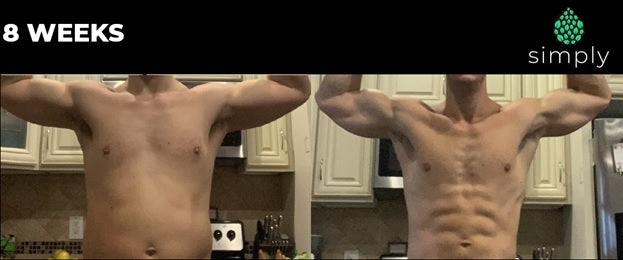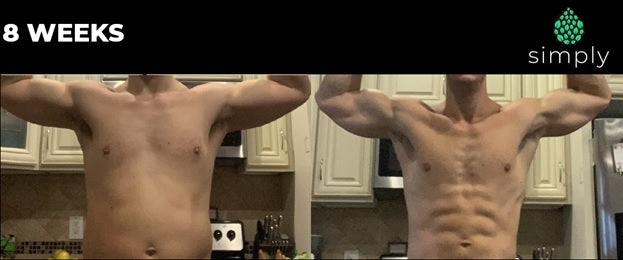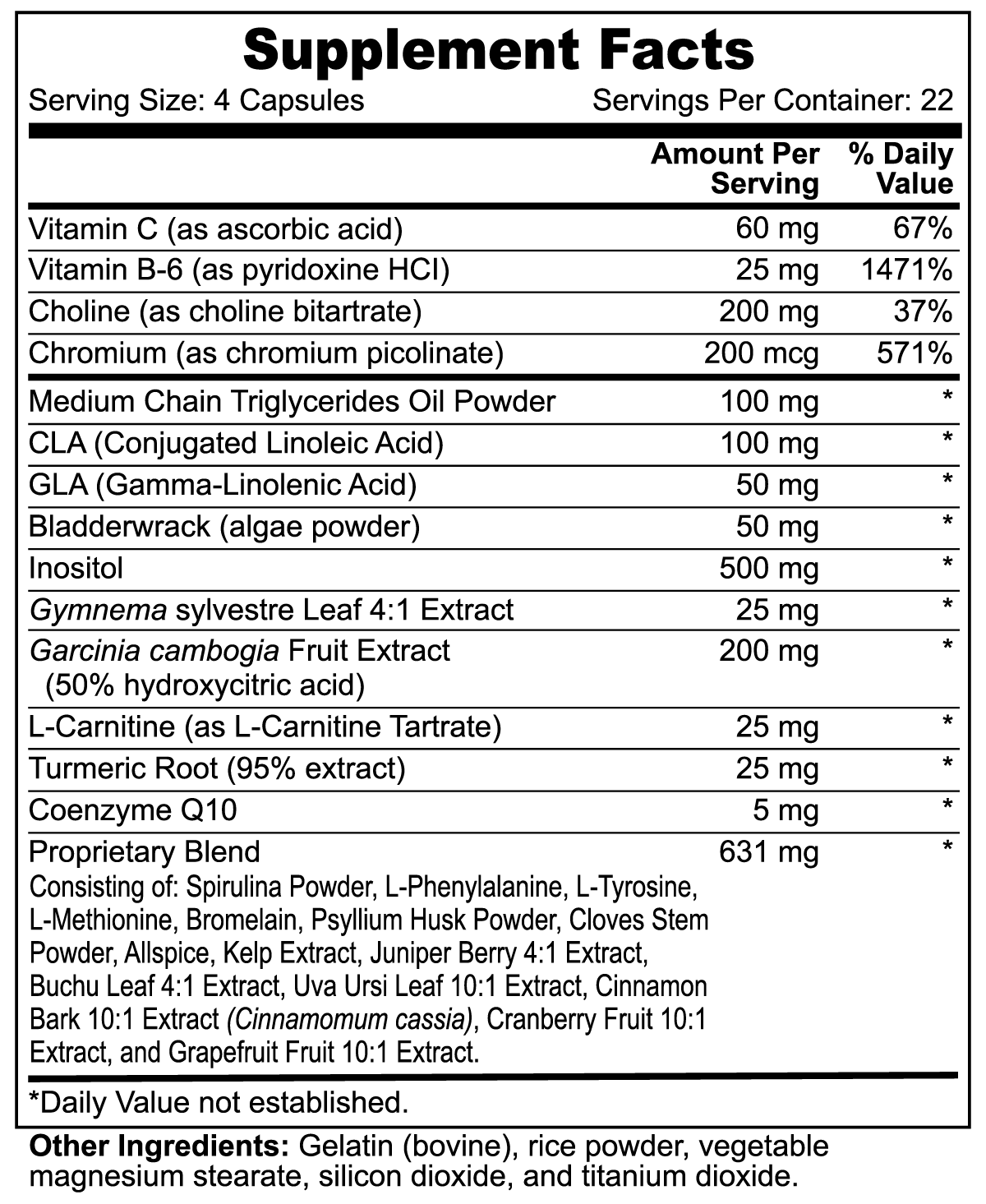 Backed by Research for Maximum Effectiveness!
 Stimulant-free and easy to use, Shred with MCT Fat Burner is a supplement (compatible with keto diets) that can be used to boost your metabolism naturally, making weight loss much more manageable to maintain. Top of the line amongst bodybuilding fat burners, this supplement contains Vitamin C, Vitamin B-6, Choline and Chromium, Medium Chain Triglycerides Oil Powder, and other active ingredients such as L-Carnitine, all chosen to act as a natural and reliable fat burner to support weight loss. 
While other bodybuilding fat burners might use a wide range of sub par dosages of stimulants, Shred with MCT Fat Burner is entirely stimulant-free. This is because when improperly dosed stimulants wear off, the user can find weight loss much harder to maintain after. Rather, this product works by improving your body's natural fat-burning mechanisms, making it more efficient so that the weight loss remains easy to maintain.
FULL TRANSPARENCY

All products and labels are fully transparent.

PREMIUM INGREDIENTS

The highest quality ingredients available. You'll always get what the label says.

RESEARCH-BACKED INGREDIENTS

We rely on scientifically-proven ingredients and testing multiple times. We refuse to launch any new products until they are absolutely perfect - no cutting corners allowed!
The effect is very noticeable in the gym. I sweat and burn more faster then before and I feel more engaged into my workouts. Highly recommended
I really like this product as it helped to suppress my appetite in losing weight. I recommend to all and would definitely purchase again!
Really enjoyed this capsule, it gives me the perfect amount of energy for my workouts.
I really does work. Love it before the gym I feel like I can go so much harder in gym after
It gives me the needed boost to push myself that extra mile. Definitely recommend.
FAQs
Q: What Are Fat Burner Supplements?

Fat burner  supplements work by increasing your resting metabolic rate. The active ingredients help get rid of body fat.
Q: Do Fat Burner Supplements Work?

They can work by helping weight loss in the following ways: 

Increasing your metabolism
Reducing the amount of fat your body absorbs
Suppressing your appetite  
Q: What Ingredients should I look for in a stimulant free/ keto Fat Burner Supplement?

CLA(Conjugated-Linoleic Acid)-Research in humans shows that CLA has a weight loss benefit.
MCT Oil- MCT oil has been shown to support weight and fat loss. This may, in turn, help reduce your risk for heart disease
Coenzyme Q10-Research indicates that up to 50% of overweight people have low serum CoQ10 levels, which can slow their metabolism. Daily supplementation of CoQ10 can lead to doubling their weight loss over several months with the same calorie intake.
Turmeric-Turmeric not only helps in digestion but also boosts metabolism and hence leads to weight loss
L-Carnitine- L-carnitine allows the body to burn more fat, save more glycogen, and ultimately boost stamina and endurance due to the metabolic process of using fat as a fuel source. By providing more fat to the muscles, L-carnitine makes accessible an otherwise unavailable energy source.
Garcinia Cambogia-A potent appettite suppressant. Most importantly, garcinia cambogia impacts blood fats and the production of new fatty acids.
Gymnema Sylvestre-By blocking sweet receptors on your taste buds, Gymnema sylvestre may cause you to eat fewer sweet foods and consume fewer calories. A consistent calorie deficit can result in weight loss.
Choline-Choline plays an important role in controlling fat and cholesterol buildup in the body. It has even been suggested that choline helps the body burn fat, which results in easier weight loss and better metabolic health.
Q: ARE THERE ANY SERIOUS HEALTH RISKS WITH FAT BURNER SUPPLEMENTS?

Some fat burner supplements have been linked to problems like liver damage. Some herbs, like ephedra, that were once used in fat burners are now banned by the FDA because they cause high blood pressure, mood change, irregular heart rate, stroke, seizures, and heart attacks. Stimulant Free fat burners have none of these risks, but it is always best to consult with your phyisician should you have any questions.
Q: WHAT IS THE BEST WAY TO SUPPLEMENT A fat burner?

It should most likely be 30 minutes before breakfast or your morning workout. This is when your body's metabolism starts picking up. Taking a fat burner first thing in the morning will help alter things. Fat burners with appetite-suppressing properties are best taken a little while before a meal to induce satiety.
Q: How much weight can I lose using a fat burner?

Set reasonable expectations: While your rate of fat loss can be enhanced with supplements, you won't be dropping 10 pounds every week simply because you're using a thermogenic supplement. A healthy & safe amount would be around 1-3lbs a week.