Gut Health Stack
Regular price

$54.98

Sale price

$40.99
Probiotic 40 Billion with Prebiotics and Ashwagandha Stack by Simply Supplements
Are you looking for a natural way to improve your gut health, immune system, and mood? Do you want to feel more relaxed, energized, and happy? If yes, then you will love this stack of two amazing supplements by Simply Supplements: the probiotic 40 billion with prebiotics and the ashwagandha. 😍
This stack combines two of the best supplements for your overall well-being: a high-potency probiotic formula that supports your digestive and immune health, and a powerful adaptogen that helps you cope with stress and anxiety. Together, they can help you achieve a healthy balance of your gut-brain axis, which is essential for your physical and mental health. 🧠
Here are some of the benefits of taking this stack: 🙌

Improved gut health and digestion. The probiotic 40 billion with prebiotics contains 40 billion live cultures of four different strains of beneficial bacteria, plus inulin, a natural prebiotic fiber that feeds and supports the growth of these bacteria in your gut. These bacteria help balance your gut flora, improve your digestion, and support your immune system. They also produce neurotransmitters that affect your mood, such as serotonin and dopamine. 🦠
Reduced stress and anxiety levels. The ashwagandha is a natural adaptogen that helps your body cope with stress and anxiety. It also reduces inflammation, lowers cortisol levels, enhances memory, and has anti-aging properties . Ashwagandha works well with probiotics, as stress can negatively affect your gut health and vice versa. 🌿
Better mood and mental clarity. By taking this stack, you can boost your mood and mental clarity by supporting the production of serotonin and dopamine in your gut and brain. These neurotransmitters are responsible for regulating your emotions, motivation, learning, and memory. You can also enjoy a more positive outlook on life and a greater sense of well-being. 😊
Increased energy and vitality. This stack can also help you increase your energy and vitality by improving your metabolism, blood circulation, and oxygen delivery to your cells. You can feel more alert, focused, and productive throughout the day. You can also perform better in your physical activities and recover faster from fatigue or injury. 💪

To use this stack, simply take two capsules of each supplement daily with a meal. Each bottle contains 60 capsules, enough for one month of supply.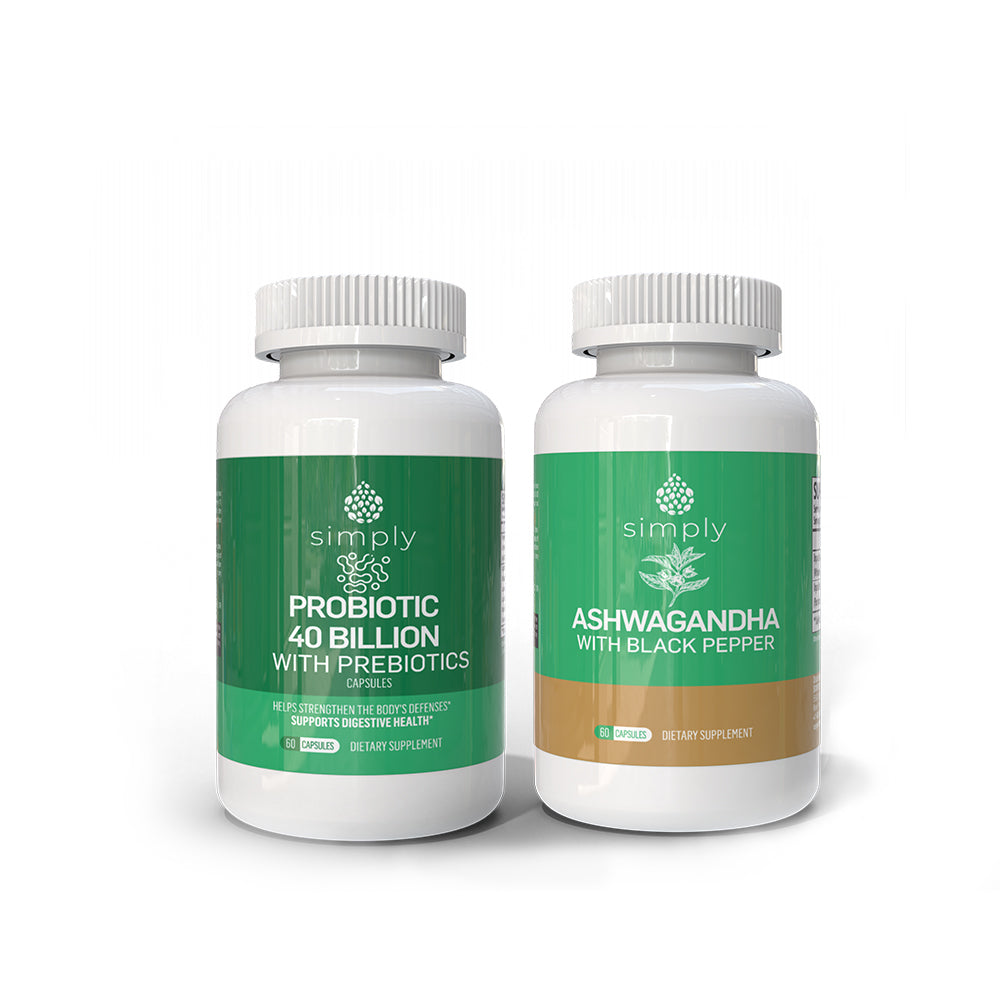 Simply's Promise
Personalization.

All Simply products are meticulously formulated to provide you supplements suited to your unique needs, dietary restrictions, and fitness goals.

Communication.

Simply was created by people who have dedicated their lives to understanding nutrition and supplementation. This gives us the opportunity to bring you the best products possible. We are always ready to answer any training or supplementation questions.

Reliable Shipping

All deliveries arriving within 1-4 business days, and all orders over $100 receive free shipping.

Quality.

Our rigorous quality control processes ensure that your Simply products contain only high quality compounds and ingredients. Simple yet effective formulation means our products never contain filler ingredients.