AM/PM Thermo Stack
Regular price

$65.99

Sale price

$51.99
Are you looking for a natural and effective way to burn fat, boost your metabolism, and improve your sleep quality? If so, you might want to try the AM/PM Thermo Stack from Simply Supplements. This stack combines two powerful products: Shred Fat Burner and Shred PM.

Shred Fat Burner is a thermogenic supplement that helps you burn more calories and fat throughout the day. 🔥 It contains a blend of natural ingredients, such as green tea extract, caffeine, L-carnitine, and raspberry ketones, that work together to increase your energy, suppress your appetite, and enhance your mood. Shred Fat Burner is designed to be taken in the morning, before your breakfast or workout, to kickstart your metabolism and give you a lasting boost. 💪

Shred PM is a nighttime supplement that helps you relax and recover while you sleep. 😴 It contains a blend of natural ingredients, such as melatonin, chamomile, valerian root, and magnesium, that work together to promote deep and restful sleep, reduce stress and anxiety, and support your immune system. 🌙 Shred PM is designed to be taken in the evening, before your bedtime, to help you unwind and prepare for a new day.

The AM/PM Thermo Stack is the perfect solution for anyone who wants to lose weight, feel great, and sleep better. By taking these two products together, you can optimize your fat-burning potential 24/7 and achieve your fitness goals faster. Plus, you can save money by buying them as a bundle instead of separately. 💸

Don't miss this opportunity to get the best of both worlds with the AM/PM Thermo Stack from Simply Supplements!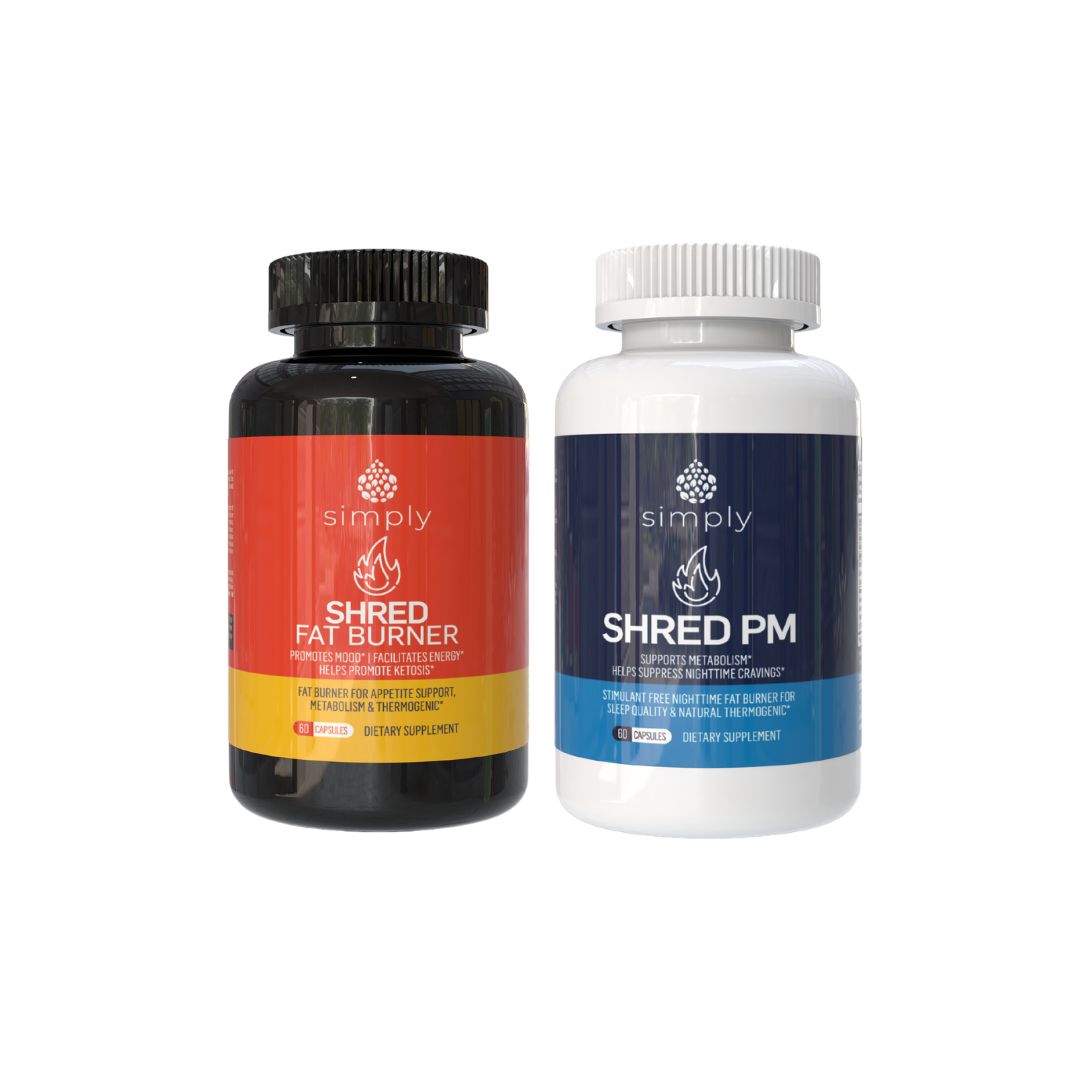 Simply's Promise
Personalization.

All Simply products are meticulously formulated to provide you supplements suited to your unique needs, dietary restrictions, and fitness goals.

Communication.

Simply was created by people who have dedicated their lives to understanding nutrition and supplementation. This gives us the opportunity to bring you the best products possible. We are always ready to answer any training or supplementation questions.

Reliable Shipping

All deliveries arriving within 1-4 business days, and all orders over $100 receive free shipping.

Quality.

Our rigorous quality control processes ensure that your Simply products contain only high quality compounds and ingredients. Simple yet effective formulation means our products never contain filler ingredients.